The Twins managed to split the series with the Red Sox in the final match up between the two at the Metrodome. At the end of the current home stand, the Twins are now 4 games back of Detroit, the same team they swept just a few series ago.
In the four games vs. the Red Sox, both Justin Morneau and Joe Mauer, have both cooled down a bit. Hitting a combined 7 - 26 with 2 home runs.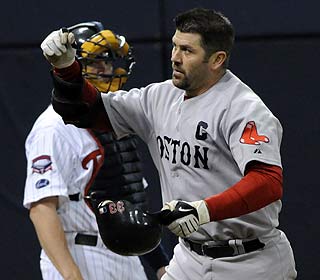 During Wednesday's game, the Red Sox tied a record with 7 wild pitches, by three different pitchers.
In the series finale, the Twins were unable to build off Joe Crede's early home run. In an odd game, Jason Varitek hit two home runs and then was ejected for arguing a called ball 4 when catching; however, that wasn't until after Twins' catcher Mike Redmond was tossed for arguing a play at the plate on a sacrifice fly. Replays show that Redmond was correct. Ron Gardenhire hurried out and was quickly ejected when responding to Redmond's ejection.
The Twins now go to Tampa Bay to play the struggling Rays, losers of 5 straight, in a three game series before returning home to for a 3 game series vs Cleveland.