Wonder Boy Joe Mauer Wins MVP
By: Christopher Torola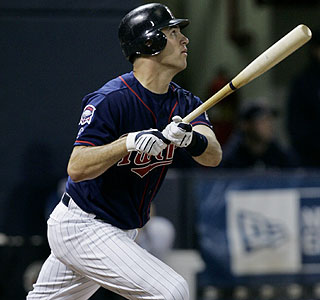 Minnesota Kid Makes Good On Promise! 26 year old Joe Mauer was named the American League Most Valuable Player today, prompting me to take a brief look at his career to date, as well as a peak into the future.
In the 2001 MLB player draft the Twins used the number 1 overall pick to draft Joe Mauer right out of high school. This was considered by many at the time as an attempt to save money. Mark Prior was tagged as the consensus best player in the draft. Although Joe was a local kid, hailing from St. Paul Minnesota, criticizers of the pick claimed that the Twins drafted Mauer because the team wouldn't spend the money to sign Prior. Some went on to say that they had no intention of signing Mauer, who also had signed a letter of intent to play Quarterback for Florida State University.
Obviously the Twins were able to sign Joe, and he sky rocketed through the Twins minor league organization and being names Minor League Player of the Year in 2003.
After the 2003 season the Twins traded All-Star catcher A.J. Pierzynski to the Giants to make way for Joe. A.J., then just 26 years old, was coming off a .312 batting average season. In his first season with the big club, 2004, he played in only 35 games due to a knee injury. Notably he hit 6 home runs that year in just 107 at bats. In spite of the injury, the Twins had seen enough and signed Joe to a multi-million dollar deal on the off season. In 2005 Joe played in 131 games in which he batted .294. The power that look so promising before his injury did not seem to be there, but Joe had an eye for the ball and was able to do plenty of damage with the base hit.
In 2006 Joe had his coming out party. He was selected to his first All-Star game, won his first Silver Slugger Award, and was the first American League catcher to win a batting title... ending the year with a .347 batting average. The Twins rewarded Mauer with another off-season contract. Re-working his deal with the Twins for a reported $33 million through the 2010 season.
2007 was a bit of a down year for Joe comparatively. He has a stress reaction in his leg that caused him to miss some games. It also, caused the Twins to rest Joe on a regular basis. As a result Joe only played in 109 games. He hit for .293 batting average, his lowest average as a major leaguer.
In 2008 Joe played in 146 games, was a starter in the All-Star game for the first time, won his 2nd batting title, his 2nd Silver Slugger and his 1st Gold Glove. This was a Joe's best year for personal accomplishments; however, the team missed the post season by losing a 1 game play in game to the White Sox.
The start to Joe's 2009 season was not a good one. He had off-season kidney surgery that bothered his back as the start of the season was nearing. Mauer ended up missing almost a month of the regular season. With his first swing of the bat this year, Joe sent went into the bleachers. He was on fire his first months back. He was named MLB's player of the month in May. Mauer went on to hit for career highs in home runs - 28, hits - 191, RBI's - 96, and batting average .365. All that in an injury shortened season.
Joe Mauer and the Twins garnered a lot of national attention towards the end of the regular season, as all the play off spots except the AL Central were already decided. The Twins made an amazing come back to force its second 1 game play in game in as many years. Although, they were swept by the eventually World Series winning Yankees in the first round, Joe had one of the top years ever by a catcher. As a result he won his 1st MVP trophy today. This to go along with his 3rd All-Star game, 3rd batting title, 3rd Silver Slugger, and 2nd Gold Glove.
With Joe coming up on the last year of his contract, it would be great to see the Twins extend him this off- season. They are opening a new stadium next season, and after letting go of the likes of Johan Santana and Torii Hunter over the last few years, it would be a travesty for Joe to end up playing for another team, especially after the Minnesota fans and tax-payers were promised a bigger budget to go along with a new ball park. Local insiders have been heard saying that the two side are likely to reach a deal this winter. The Twins seem willing to pay the salary, they just may have to offer a few more years onto the end of the contract.