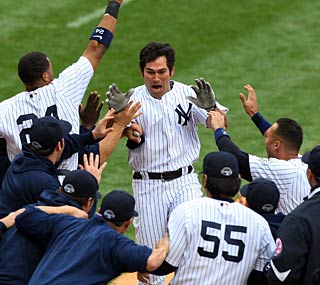 In the first 3 games the
Twins
have enjoyed late inning leads; however, they have been unable to hold back the Pinstripers. Friday it was Melky with a 2-RBI single off an overused
Joe Nathan
. Saturday it was A-Rod's first round-tripper in New Yankee Stadium, for an extra inning win. And finally, in spite of a brilliant defensive play at the plate by
Joe Mauer
, the
Yankees
had their third straight walk off win, this one courtesy of a
Johnny Damon
solo home run in the 10th.
At least the series finale was a different sort a tough loss for the Twins. Glen Perkins pitched atrociously, allowing 6 runs without getting out of the first inning. R.A Dickey came in to stop the bleeding, and pitched 4 1/3 with out allowing a run. The Twins pecked away at the Yankee lead getting the game within 2, until Mark Teixeira hit a solo homer, his 2nd dinger of the game, in the bottom of the 7th. That would be the difference in the game, as the Twins managed to score 2 more, but lost 7-6, in non-walk-off fashion for a change.
On the bright side, The New M&M boys are littering the bleachers with long balls, unfortunately for the Twins, they all seem to be solo shots.
The Twins always seem to have a tough time going to the Bronx, in recent years they have lost 88% of the games they have played there. That being said, they had a legitimate shot at winning in all of the games of this series. The fact that they didn't win in any of them is maddening.
For those of you who read my blogs this may start sounding like a broken record (or skipping C.D.), but the Twins are only losing games because they are not hitting with runners in scoring position ( 1 - 25 the 1st 3 games of the series) and the bull pen has been unable to close out tight games (bullpen ERA of 9.45 the 1st 3 games of the series). Until one, if not both of those traits change, the Twins will have a hard time staying near the top of the division.
Next up the Twins head Chicago, where in the past we have faired almost as poorly as in New York.